Events, News
Maggie's Centre Charity Raises over £60,000
---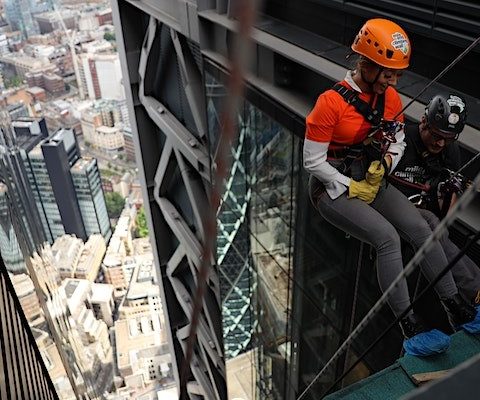 Maggie's Centre Charity Raises over £60,000 through Thrilling Charity Abseil from The Leadenhall Building
London's iconic Leadenhall Building became the backdrop for an exhilarating display of courage and generosity on Friday, 16th June, as over 100 participants gathered to support Maggie's Centres. Embarking on a daring abseil from a height of 200 meters, these brave individuals raised an astounding £100,000 for the invaluable work carried out by Maggie's Centre. This impressive fundraising effort highlights the unwavering commitment of the community to support individuals and families affected by cancer.
The Leadenhall Building, also known as the "Cheesegrater" due to its distinctive wedge shape, stands as one of London's architectural marvels. Its sleek design and panoramic views provide the perfect backdrop for daring charitable endeavours. On this special occasion, the building's towering heights served as a symbolic representation of the strength and resilience of the individuals supported by Maggie's Centre.
Maggie's Centre is a renowned charity that offers free practical, emotional, and social support to individuals affected by cancer. Their centres, located across the United Kingdom and beyond, provide a welcoming environment where patients, their families, and friends can find solace, expert advice, and compassionate care. These centres are designed to be tranquil spaces that complement medical treatment and provide a holistic approach to cancer support.
On the morning of Friday, 16th June, a sense of anticipation filled the air as participants gathered at The Leadenhall Building, ready to take on the challenge. Each participant, armed with determination and the support of their friends and family, embarked on the 200-meter descent, navigating the building's sleek façade with courage and grace.
The abseil allowed individuals from all walks of life to make a tangible impact on the lives of those affected by cancer. Participants ranged from cancer survivors and their loved ones to passionate supporters who wanted to contribute to a cause close to their hearts. Their collective efforts demonstrated the power of community and the impact that can be made when people come together for a noble cause.
Thanks to the unwavering dedication and support of the participants and their sponsors, the Maggie's Centre charity abseil was an incredible success. Over £60,000 was raised so far, surpassing all expectations and highlighting the incredible generosity within the community. With final figures still to be collated.
The funds raised will be utilized to ensure that Maggie's Centre can continue providing its vital services to those affected by cancer. From counselling and psychological support to practical advice and workshops, the charity offers a comprehensive range of services that ease the burdens faced by cancer patients and their families.
A Beacon of Inspiration
The Maggie's Centre charity abseil from The Leadenhall Building serves as a shining example of what can be achieved through a collective commitment to a worthy cause. It not only raised significant funds for an essential charity but also inspired others to become involved, increasing awareness of the valuable work carried out by Maggie's Centre.
The event showcased the resilience and determination of those affected by cancer, proving that they are not defined by their diagnosis but rather by their strength in the face of adversity. The participants' bravery in undertaking the abseil symbolized the challenges faced by cancer patients and the supportive role that Maggie's Centre plays in their lives.
The charity abseil from The Leadenhall Building was a remarkable demonstration of the power of community and compassion. Through their thrilling descent, the participants not only conquered personal fears but also raised an impressive £60,000 for Maggie's.